Sustainable Drainage Systems (SuDS): Developing 'landscape scale approaches in the South West
Project Code: 006
The new SWEEP-designed SuDS Strategic Screening Tool was used by South West organisations on a range of drainage projects delivering business efficiencies. Training in its use and other flood risk tools boosted capacity and commercial strategic advantage. The new innovative Opportunity Mapping Tool further identifies where SuDs measures can be applied at scale, across Devon.
Project team

Why it matters
Sudden flash flooding can be devastating, risking lives, homes and vital infrastructure. Damages in the UK are estimated between £250m and £500m annually. The environment suffers through uncontrolled sewer discharges into rivers, lakes and bathing waters. Public health and tourism can also be affected. South West England has been particularly badly hit by surface water flooding, with major flash flood events at Boscastle, Coverack and Clovelly in recent years.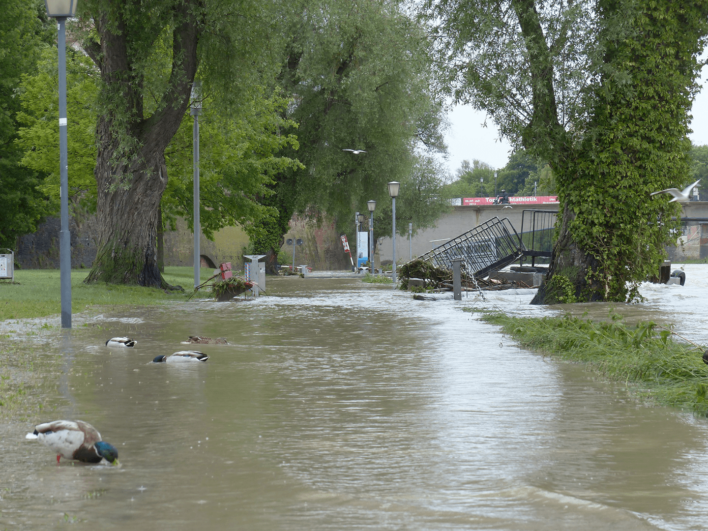 Partners
The SWEEP SuDS project provided a huge opportunity for us to access tools such as CADDIES and the Strategic Screening Tool, and for our staff to be trained in their use. This delivered significant cost savings in terms of access to tools, training, salary costs and time savings. We are now able to offer a broader, integrated package of natural flood management and SuDS services to our clients which has definitely boosted our reputation and opened up doors for us and is helping to transform WRT and make it more resilient going forwards. A real game-changer for WRT!

Nick Paling, Westcountry Rivers Trust
What we did
We promoted an integrated collaborative and strategic view of surface water management in South West England through:
Developed the new SuDS Strategic Screening Tool, which maps surface water (overland exceedance) flow paths and catchments for South West England, promoting an early-stage, 'whole catchment' approach to surface water management, in contrast to conventional ad-hoc, site-specific approaches.
Delivered training in the use of the SuDs Strategic Screening Tool, the University of Exeter's CADDIES -2D flood model and the CORFU flood damage assessment tool to key project partners, including environmental charity Westcountry Rivers Trust and international engineering consultancy Pell Frishmann.
Developed the new SuDS Opportunity Mapping Tool which indicates high-level opportunities for SuDS application in Devon by incorporating a range of environmental (land uses, slopes, water environment, hazards), human (socio-demographics, buildings) and engineering (SuDS suitability) factors.
Impacts & benefits
Strategic commercial advantage and cost savings – The SuDS Strategic Screening tool supported £355k of sustainable drainage and flooding project work carried out by Pell Frischmann and Westcountry Rivers Trust and an additional £370k of bids.
Stregthening capacity and increasing resilience – Training in the used of the SuDs Strategic Screening tool and other surface water mangement and folld risk management tools was deliverd to 6 staff across Pell Frischman and Westcountry Rivers Trust. This enhanced organisational capacity helping their whole Natural Flood Managment team of approximately 25 people.
The Strategic Screening Tool helped us to rapidly identify a previously unknown, hidden culvert in the town of Kingsbridge. It was significant to the final design concept for the flood mitigation works which cost around £8-10M to construct.

Jonathan Hubbard, Pell Frischmann
Looking to the future
The team continues this pioneering work through the University of Exeter's Smarter Stormwater Research Group and continued collaboration with the SuDS expert community.